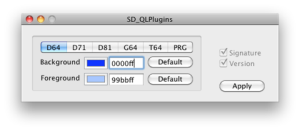 Allows for previewing the content of several types of Commodore (CBM) related types of files:
Disk images with file names ending with .G64, .D64, .D81, .D71
Tape images having file names ending with .T64
Program files – names ending with .PRG and .Pxy
The plugin corrects all known problems other "D64" plugins have, adds several more file types, displays the listings in correct font, follows the original formatting as closely as possible and allows character sets shifting like on a real CBM machine. Preview colours are freely configurable on a per-filetype basis with the supplied preferences application. Plugin supports also GZip compressed files without the need to decompress them first.
A full description and more information can be found here.