A Quicklook plug-in for Mobipocket ebooks (.mobi and .prc).
You can download the plug-in from here.
Thanks, Paul!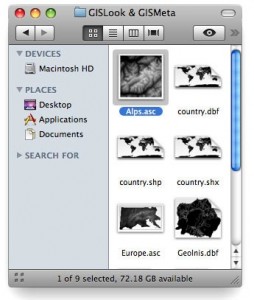 GISLook shows various vector and raster formats used by GIS (Geographical Information Systems), e.g ESRI Shape, E00, ArcInfo Coverage, ESRI ASCII Grid, USGS DEM.
More information can be found on the GISLook webpage.
Thanks to Bernhard Jenny!